ConCave Ph.D. Symposium 2024

---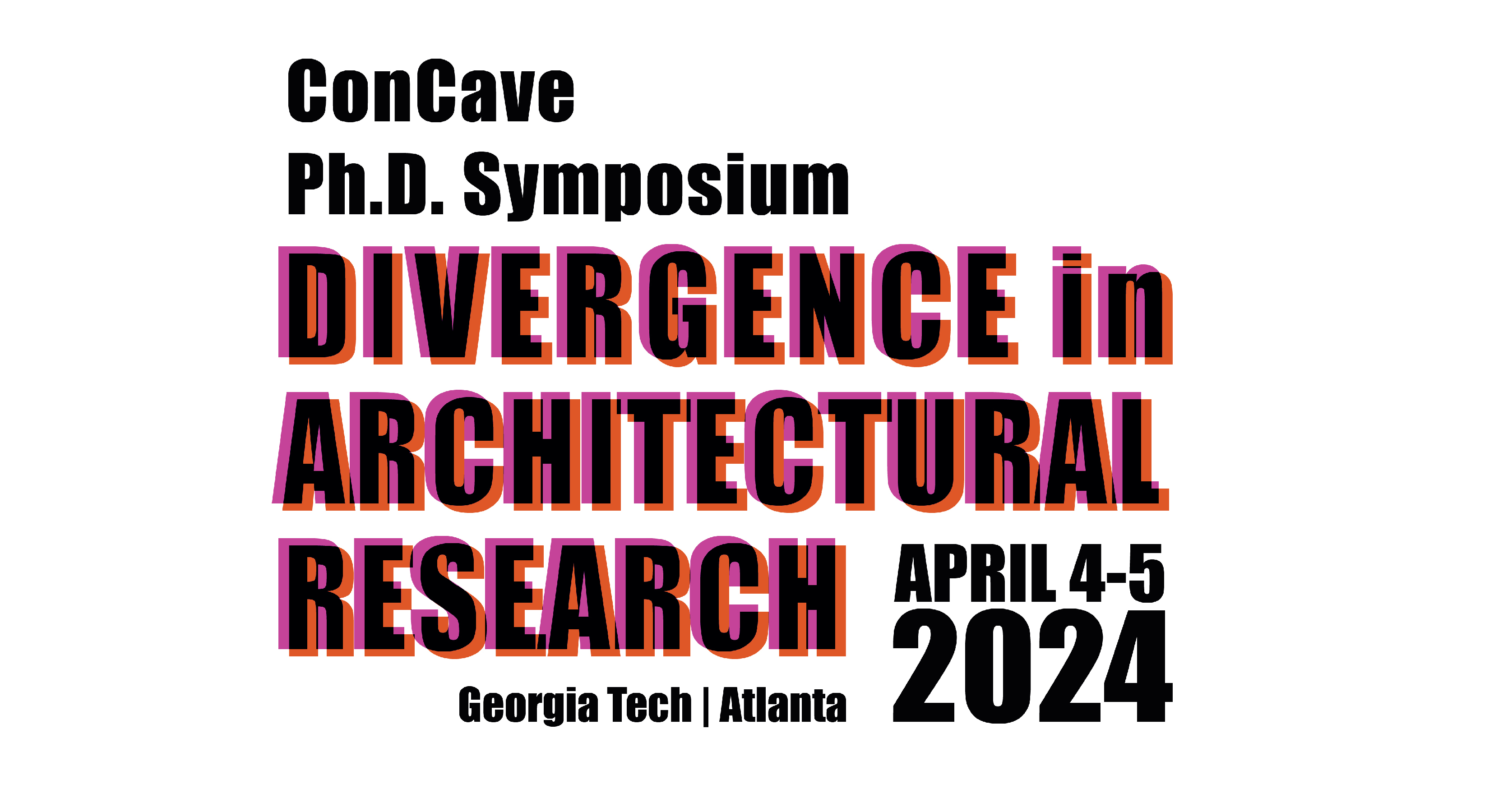 ConCave Ph.D. Symposium:
DIVERGENCE IN ARCHITECTURAL RESEARCH
April 4-5, 2024
Georgia Tech | Atlanta, GA
SUBMISSION FORM︎︎︎

CALL FOR ABSTRACTS
Deadline: September 1, 2023

We are pleased to announce the third international doctorate symposium, Divergence in Architectural Research, organized by the ConCave Ph.D. Student Group at the Georgia Institute of Technology. Taking place on April 4-5, 2024, on the campus of Georgia Institute of Technology in Atlanta, Georgia, this symposium aims to provide a platform for the exchange of cutting-edge research in architecture and design-allied fields.
The Concave Ph.D. Symposium seeks to foster interdisciplinary dialogue and collaboration by inviting scholars and doctoral students from architecture and allied fields to share their current research. One of our primary goals is to provide a supportive environment where participants can receive constructive feedback to advance their doctoral research and refine their ideas. We believe that divergent perspectives and approaches within architectural research can lead to innovative solutions and shape the future of the discipline.
Architecture, as a discipline, embodies various fields of knowledge, and architectural research often diverges into interdisciplinary domains. Divergence in architectural research represents the agency to expand the disciplinary boundaries of architecture and cultivate new fields of knowledge emerging from within the architectural domain. It offers opportunities to forge connections between different epistemological frameworks and transforms our understanding of architecture into unanticipated forms. Embracing divergent approaches to interdisciplinary research in architecture prepares scholars and researchers for shared contributions across a rich array of intellectual fields.
This symposium will serve as a nexus for connecting emerging researchers with established scholars, facilitating meaningful discussions and networking opportunities. We invite contributions from Ph.D. students whose work emerges from the architectural domain and related fields.
Topics of interest include but are not limited to:
Theory, History, and Criticism
Architecture, Culture, and Society
Heritage Conservation
Building Technology and Innovation
Computational Design and Digital Fabrication
Artificial Intelligence and Design
Design Pedagogy and Education
Urban Planning and Development
Sustainable and Ecological Design
Human-centered Design and User Experience

Submission Guidelines:
Abstracts should be no longer than 300 words and must clearly outline the research objectives, methodology, and key findings or contributions.
SUBMISSION FORM︎︎︎

Important Dates:
Abstract submission deadline: September 1, 2023
Notification of abstract acceptance: November 1, 2023
Full paper submission deadline: January 1, 2024
Notification of full paper acceptance: February 1, 2024
Accepted papers will be published in the symposium proceedings, providing an opportunity for participants to disseminate their research to a wider audience.
We look forward to receiving your abstracts and welcoming you to the Divergence in Architectural Research symposium. Join us in exploring the exciting frontiers of architectural research and shaping the future of our field.
Academic Coordinator: Zahra Mirzaei
Communication Director: Yasaman Gholami
Financial Director: Botoa Li
Media & Graphic Design: Hayri Dortdivanlioglu
Academic Advisors: Tarek Rakh, Elisa Dainese
Advisory Board:Ellen Bassett (Dean and John Portman Chair, College of Design), Nancey Green Leigh (Associate Dean for Research, College of Design), Julie Kim (William H. Harrison Chair, School of Architecture), Sonit Bafna (Ph.D. Program Director in Architecture)