ConCave Ph.D. Symposium 2022

---
The deadline for the abstract submission is extended to September 27, 2021.
Divergence in Architectural Research is an international doctorate symposium organized by the ConCave Ph.D. Student Group in the Georgia Institute of Technology School of Architecture. The Ph.D. Symposium seeks to create a platform for sharing current research in architecture, with invited scholars and other doctoral students from architecture and allied fields.
The symposium will act as a nexus for connections with established scholars and fellow researchers. Contributing researchers should be PhD students whose work emerges from the architectural domain. The Symposium will take place April 7-8, 2022, on the campus of Georgia Institute of Technology, Atlanta, Georgia.
The symposium will engage the divergent aspects of architectural research as it is taking place today across epistemological frameworks, highlighting the emerging intersections in the below-mentioned topics:
Autonomous Transportation Technology and Urbanism
Building Science and the Envelope
Data Environments
Health and the Built Environment
Simulations for Behavioral Studies in Architecture
Weaving Craft and Design
Open Panel: Architectural History, Theory, and Criticism
Open Panel: Built Environment, Culture, and Behavior
Open Panel: Design Computation, Performance, andProduction
Open Panel: Urban Studies, Systems, and Ecologies.
You can find the description of each panel below. If your research topic is not a good fit for one of these six panel topics, you can submit your abstract to the open panel.
We invite papers by doctoral students to present their ongoing research and hope to expand the conversation around the state of agency in architecture research today. Please note that the Ph.D. symposium is open only to the current doctoral students and recent graduates in the last two years.
Applicant will go through a two-stage selection process. Firstly, the submitted abstracts (up to 500 words) will undergo a double blind-peer-review. Secondly, those whose abstracts are accepted can submit their full paper for the second peer-review. The final acceptance will be announced by February 2022.
Authors whose abstracts are accepted in the first evaluation phase are invited to submit their full paper. Full papers will be published in the peer-reviewed Proceeding Book of the symposium. Papers describing the outcome of substantive research are limited to a minimum of 3000 words and maximum of 6000 words, excluding references, endnotes, figures and captions. The full papers will go through a second peer-review. Please refer to the paper template provided, as you prepare your paper for submission in the second phase.



Deadline for Abstract Submission: September 27, 2021
Contact: concave@design.gatech.edu

SUBMISSION FORM ︎︎︎

PANEL TOPICS:
1. Autonomous Transportation Technology and Urbanism
Organizer: Jun Wang
Transportation systems and mobility modes are two of the major forces shaping our cities. In the 20th century, the invention of the inner combustion engine-powered vehicle gave birth to the highway system and changed how we perceive and organize the city ever since. The creation of suburban garden neighborhoods and the spaghetti roads are the witnesses of the power transportation modes had on changing the cities. Autonomous vehicles (AVs), already stepped into our daily lives from science fiction, with different operation systems and on-road behavior compared to the previous generations of cars, are bound to impact urban designs. AVs directly affect the Flow Pattern of cities, and this change directly affects mobility patterns and transportation systems.
Faced with the unstoppable reality that AVs will become the mainstream transportation mode, this panel invites researchers studying their impacts on urban design and how urban designers can respond. The panel seeks specifically papers considering the impact of AVs on cities in three main ways: Firstly, the direct impact on the design of physical space, including the impact on street design, infrastructure system, and the interface of buildings and the environment; secondly, the impact on the spatial pattern and urban form of the city at a larger scale, including the topography of the street network, and the way different functional elements (commercial buildings, residential buildings, office buildings, etc.) are placed and organized; thirdly, the reconfiguration of the urban design theories and overall approaches at a long-term scale, as well as the change of the urban design policy-related content.
2. Building Science and the Envelope: Scholarship at the Micro and Macro Scales
Organizer: Tarek Sherif
Co-organizers: Yasser El Masri, Tyler Pilet
Global warming is an increasingly critical threat to our existence on planet Earth. Significant built environment performance advancements are sought to mitigate its effect by lowering energy consumption that contributes to climate change through their reliance on non-renewables. The interface between built environments and their contexts through the building envelope plays a significant role in the performance of those structures. While the High-Performance Building (HPB) community has been successful in simulating the effects of static envelope properties on total energy consumption, the intricacies of envelope performance and its potential global legislative adoption remains to be addressed. The temporal properties of building envelopes and the challenges concerning their deterioration and subsequently reduced performance encourage further evaluation through the full building lifecycle. On an international scale, the uniformly adopted carbon emissions goals and the required envelope design standards to reach target thresholds need to be assessed for diverse geographies. Differences in climatic conditions can create disparities in burdens placed on some territories than others. These issues raise questions pertaining to envelope performance ranging from the single house envelope examination to international policy challenges.
This panel aims to stimulate conversations regarding current scholarship in envelope design, construction, diagnostics, maintenance etc., and the necessary evolution of building envelope research to address global warming. The panel invites all building science-based envelope contributions from the micro to the macro and global scale, including addressing questions ranging from: how can humidity affect building envelope deterioration through time? All the way to: how can international envelope legislation goals be formulated to reflect both the challenges facing countries with harsher climatic conditions as well as those with evident economic limitations?
3. Data Environments: Critical Reflections on the Role of Data in the Built Environment
Organizer: Zachary Lancaster
Co-organizers: Eleanna Panagoulia, Mehmet Bermek
Data-driven approaches in planning and design practices of the built environment are rapidly expanding under a hypothesis that these approaches contribute to faster and more accurate results. This idea has entered the discourse and influenced a surge in research concerning smart systems and applications of artificial intelligence meant to create better decision-making tools, for planning and design. Underlying these methods and their attendant tools are both human and machine algorithms and dense assemblages of information and data, whose assumptions and structure are often partially understood and left unchallenged. This leaves those responsible for the design of social and physical artifacts of the built environment making use of data without understanding the full context from which they emerge, the partial perspective that they represent and the rationale for their existence. While authors in critical data and information studies have analyzed the impacts of data and information systems, they examine the design of cities and buildings from a standpoint tangent to their architecture and planning's own disciplinary discourse. We need to focus the critical data theory discourse to the spectrum of architecture and planning to initialize a domain wide reflection on the effects of the structural implications and rationale of data-driven methods and tools on designers, planners, and their practice.
This panel invites participants to submit articles exploring the ways systems of knowledge, information and data are constructed as a part of professional practice and academia, and the impact these systems have on design and planning. We seek contributions that justify and unpack the assumptions and structure of algorithms and the underlying structure of the data and information systems, with their core assumptions accessible to critical examination. The goal is to catalyze a domain-wide conversation around a critical understanding of the role data play in design practice and pedagogy.
4. Health and the Built Environment
Organizer: Yousef Bushehri
Co-organizers: Raha Rastegar, Yeinn Oh
Research, teaching, and policy related to health and the built environment have snowballed in recent decades. The subject has become an established field of academic inquiry that has helped advance designs to improve a variety of mental and physical health outcomes. It has also developed relationships with other professionals across disciplines who are directly involved in making decisions about the design of the built environment, such as urban planners, architects, and policymakers.
In addition to Evidence-Based Design, originally derived from evidence-based medicine, other progressive trends in architecture and urban planning, including the green building movement and environmental psychology studies, grew out of environmental and social goals and often promoted healthy design. We still need more research to understand how to reap health benefits from the built environment. This research should address a range of spatial scales—from buildings to metropolitan areas—and a range of health outcomes—physical activity and mental health, respiratory health, neurodevelopment, and cognition, among others. Furthermore, more targeted attention to the most impacted populations is needed. Aging in place, universal design, and accessible design are examples of research trends responding to the demands of those at the greatest risk with the greatest need for intervention.
This panel explores the intersection of the built environment and mental/physical health outcomes. We seek studies on the health impact assessments and environmental metrics developed and used to evaluate built environment affordances. Although you are encouraged for this panel to incorporate the themes listed above in your submission abstract, we remain open to all research that explores and examines the impact of building design on occupants' health and behavior.
5. Simulations for Behavioral Studies in Architecture
Organizer: Yeinn Oh
Co-organizers: Yousef Bushehri, Raha Rastegar
Buildings regulate human behavior through the built environment characteristics such as spatial form, organization, and dimensions. Studies reveal that the layout of buildings impacts the human mind and leads occupants to perform a certain behavior through a complex cognitive process. Many behavioral models attempt to explain and predict how the built environment shapes human behavior. Predicting behaviors benefits architectural research in many ways, including improving the energy performance of the building, reducing building evacuation time in emergencies, reducing stress and cognitive load in critical settings (e.g., healthcare settings), and most recently tracking human contacts for COVID-19 cases. Explaining the behaviors, on the other hand, has its own benefits; it helps to understand and develop fundamental architectural theories on human psychology.
This panel explores simulation methodologies and approaches used in behavioral studies as well as the participant's own theory connecting around simulation tools and behavioral models. Employing simulations can cater to architects and researchers by letting them test these behavioral theories in virtual settings. For example, Space Syntax focuses on morphological analysis to predict and understand the relationship between spatial design and the use of space. Another example is the Agent-Based Simulation, which allows using autonomous, independent agents that interact with each other to predict complex social behaviors. This panel creates an opportunity for researchers working in this area to share their research and to discuss possible co-ordination of approaches and directions.
6. Weaving Craft and Design
Organizer: Hayri Dortdivanlioglu
Architecture as a profession emerged from craft practices; however, the modernist dichotomy between manual and intellectual labor has distanced architecture from craft. While architecture emphasizes the intellectual processes of design based on rational principles to bring it closer to other sciences and give it even more authority, it sees craft as merely a practice with an unexplainable process, i.e., making without knowing. This distinction causes a fuzzy boundary between craft and architecture. Throughout the history of architecture, craft and its relationship to design and architecture has fluctuated; sometimes craft is getting closer to architecture, and other times moving away from it. Despite this distinction, craft remains embedded in the process of design in the form of drawing and modeling as a manifestation of design, and a means of construction.
In contrast to this modernist separation, in one of the oldest textual sources of architectural theory, Vitruvius defines architecture as a marriage of
fabrica
and
ratiocinatio
, proposing a union of practice and theory in the body of an architect. Building upon his theory of architecture, this panel invites researchers that seek interactions between craft and architecture. The panel aims to host a conversation between historical, ethnographical, and practice-based research looking at the past, present and future entanglements of craft, and architecture. Firstly, this session invites researchers that engage with the history and historiography of the relationship between craft and architecture. Secondly, it is open to contributions that adopt onto-epistemological perspectives to the role of craft in design and architecture. Finally, it encourages submissions that carry out methodological approaches to craft as a means of design in analog, digital and computational architecture. Submissions may also examine architecture as an inquiry by making through thinking and thinking through making.
ConCave Ph.D. Symposium 2020

---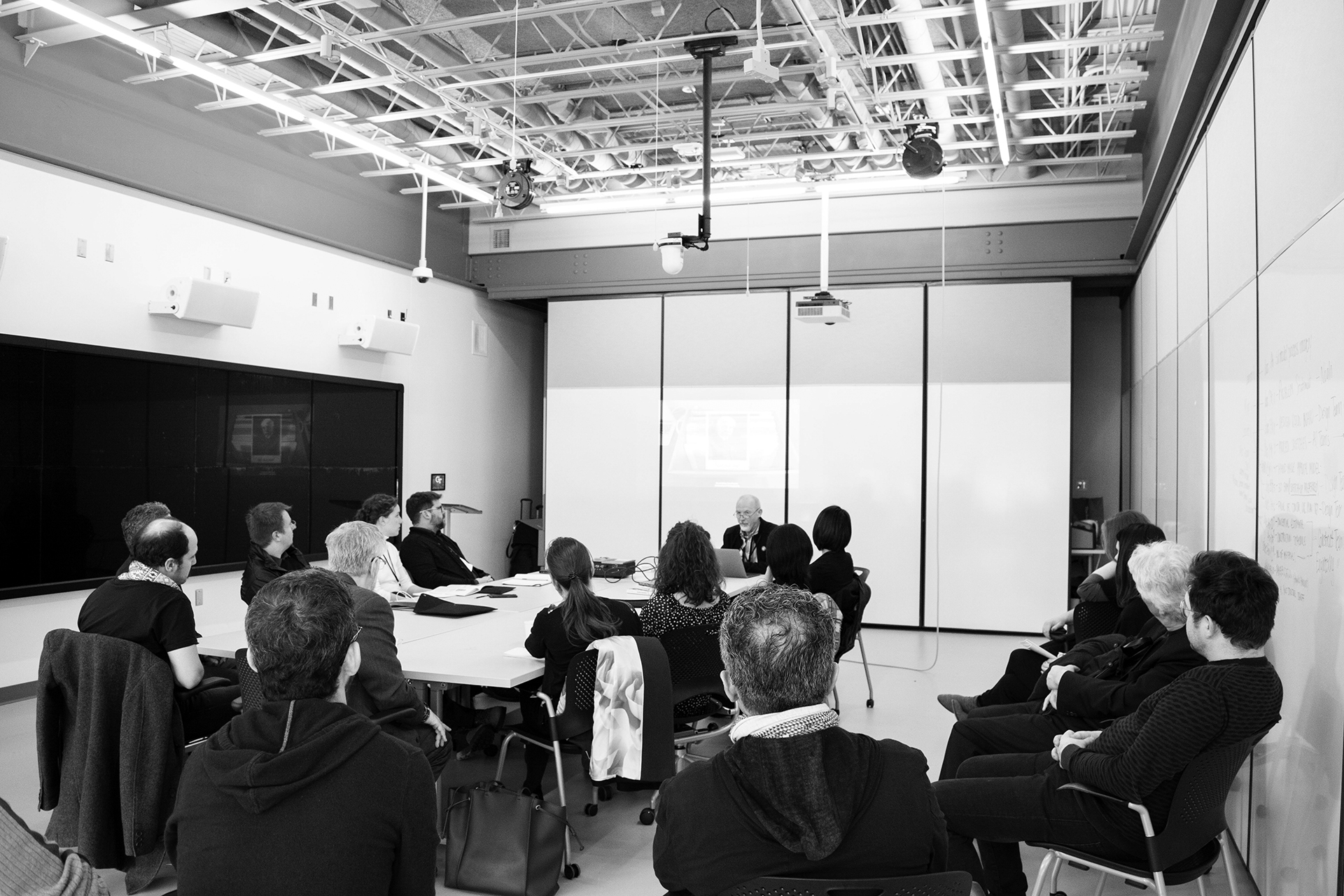 Divergence in Architectural Research is an international doctoral symposium organized by the ConCave Ph.D. Student Group in the Georgia Institute of Technology School of Architecture. As a Research I Institute, Georgia Tech offers researchers a divergent academic environment in which to discuss and advance emergent studies in architecture. The goal of the PhD Symposium is to provide a supportive atmosphere for PhD students at different stages in their research to present and receive feedback on their ongoing work. The symposium provides doctoral students a diverse academic ground from which to share their research with established scholars and other graduate students interested in similar research areas. The symposium also aims to enable PhD students to interact and network with other participants and potential collaborators, in order to stimulate an exchange of ideas, suggestions and experiences. The Symposium is open to all Ph.D. students, recent Ph.D. graduates and postdocs affiliated with any graduate programs currently developing research in architecture and related disciplines, such as building construction, city and reginal planning, cultural and historical preservation etc. Accepted papers will be published in the peer-reviewed proceeding book.

Architecture, as a discipline, embodies various fields of knowledge. Architectural research derives from within its own discipline and diverges into an interdisciplinary domain. Divergence in architectural research implies that there is agency to expand the disciplinary boundary of architecture and produce new fields of knowledge emerging from within the architectural domain. It offers making new connections between different epistemological frameworks and transforms our knowledge of architecture into unanticipated forms. Divergent approaches to interdisciplinary research in architecture prepares scholars and researchers for shared contributions across a rich array of intellectual fields.
The symposium invites all doctoral students to present their interdisciplinary research in five thematic session topics. The chosen topics, listed below, are intended to be inclusive, ensuring a venue for a diverse spectrum of research and welcoming overlaps to stimulate further discussion across sessions.

COMMITTEES:
Organizing Committee:Academic Advisor: Tarek Rakha
Academic Coordinators: Hayri Dortdivanlioglu & Marisabel Marratt
Exhibition Coordinator: Yousef Bushehri
Accommodation & Logistics: Zorana Matic
Financial Board: Marisabel Marratt, Hayri Dortdivanlioglu
Media & Graphic Design: Hayri Dortdivanlioglu

Organization Board: Heather Ligler, Kurt Hong, Gustavo Do Amaral, Mehmet Bermek, Raha Motamed Rastegar, Fatima Javeed, James Park, Zachary Lancaster
Advisory Board: Steven French (Dean and John Portman Chair, College of Design), Nancey Green Leigh (Associate Dean for Research, College of Design), Scott Marble (William H. Harrison Chair, School of Architecture), Dennis Sheldon (Building Information System), Thanos Economou (Design Computing), Keith Kaseman (Advance Production), Tarek Rakha (High Performance Building), Craig Zimring (Design & Health), Ellen Dunham-Jones (Urban Design), George Johnston (History, Theory & Criticism)

Scientific Committee:
Anjali Joseph / Endowed Chair, Clemson University
Arash Soleimani / Assistant Professor, Kennesaw State University
Arief Setiawan / Assistant Professor, Kennesaw State University
Athanassios Economou / Professor, Georgia Institute of Technology
Azadeh Sawyer / Assistant Professor, Carnegie Mellon University
Benay Gursoy Toykoc / Assistant Professor, Penn State University
Christina Crawford / Assistant Professor, Emory University
Clio Andris / Assistant Professor, Georgia Institute of Technology
Craig Zimring / Professor, Georgia Institute of Technology
Danielle Wilkens / Assistant Professor, Georgia Institute of Technology
Dennis Shelden / Associate Professor, Georgia Institute of Technology
Dimitris Papanikolaou / Assistant Professor, University of North Carolina
Elisa Dainese / Assistant Professor, Dalhousie University
Ellen Dunham Jones / Professor, Georgia Institute of Technology
Eyal Weizman / Professor, University of London
Gabriel Wurzer / Researcher, Vienna University of Technology
George Johnston / Professor, Georgia Institute of Technology
Ingrid Rowland / Professor, University of Notre Dame
Ipek Tureli / Associate Professor, McGill University
Jihan Sherman / Academic Professional, Georgia Institute of Technology
Jean-Hugues Barthélémy / Professor, l'Université Paris-Nanterre, France
Jeffrey Collins / Assistant Professor, Kennesaw State University
John Haymaker / Director of Research, Perkins+Will
Kereshmeh Afsari / Assistant Professor, Virginia Tech
Lars Spuybroek / Professor, Georgia Institute of Technology
Lisa Lim / Assistant Professor, Texas Tech University
Lydia Kallipoliti / Assistant Professor, The Cooper Union
Mine Ozkar / Professor, Istanbul Technical University
Moa Carlsson / Lecturer, University of Edinburgh
Momen El-Husseiny / Assistant Professor,The American University in Cairo
Pavlos Lefas / Professor, University of Patras, Greece
Perry Yang / Associate Professor, Georgia Institute of Technology
Reinhard Koenig / Junior-Professor, Bauhaus-University Weimar
Robert Rosenberger / Associate Professor, Georgia Institute of Technology
Roya Rezaee / Research Scientist, Perkins+Will
Ryan Roark / Ventulett Next Generation Visiting Fellow, Georgia Tech
Saif Haq / Professor, Texas Tech University
Seray Turkay / Assistant Professor, TED University
Siobhan Rockcastle / Assistant Professor, University of Oregon
Sonit Bafna / Associate Professor, Georgia Institute of Technology
Tarek Rakha / Assistant Professor, Georgia Institute of Technology
Thomas Grasl / SWAP Architects
Todd Cronan / Associate Professor, Emory University
Vernelle Noel / Ventulett Next Generation Visiting Fellow, Georgia Tech
Zachary Tate Porter / Assistant Professor, University of Nebraska-Lincoln
Zenovia Toloudi / Assistant Professor, Dartmouth
CONCAVE BULLETIN
---
Book Launch:
DIVERGENCE IN ARCHITECTURAL RESEARCH
Proceeding Book of the ConCave Ph.D. Symposium 2020: Divergence in Architectural Research at Georgia Tech, Atlanta.
Read more...
---
LECTURE VIDEOS

---
LOCATING A PAN-AFRICAN RHETORIC FOR BLACK ACTIVISM IN ARCHITECTURAL EDUCATION

Charles Davis II, Ph.D. [He, him]Assistant Professor of Architecture History and Criticism
University at Buffalo, SUNY
Chair, SAH Race and Architectural History Group
---
CAN WE QUEER ARCHITECTURE AND DESIGN EDUCATION?

Olivier Vallerand, Ph.D. [He, him]
Assistant Professor
Arizona State University
---
CRITICAL ACCESS: HOW DISABILITY CULTURE CAN INFORM DESIGN PRACTICE AND PEDAGOGY

Aimi Hamraie, Ph.D. [they/them]Associate Professor of Medicine, Health, & Society and American Studies
Vanderbilt University
---