ConCave
---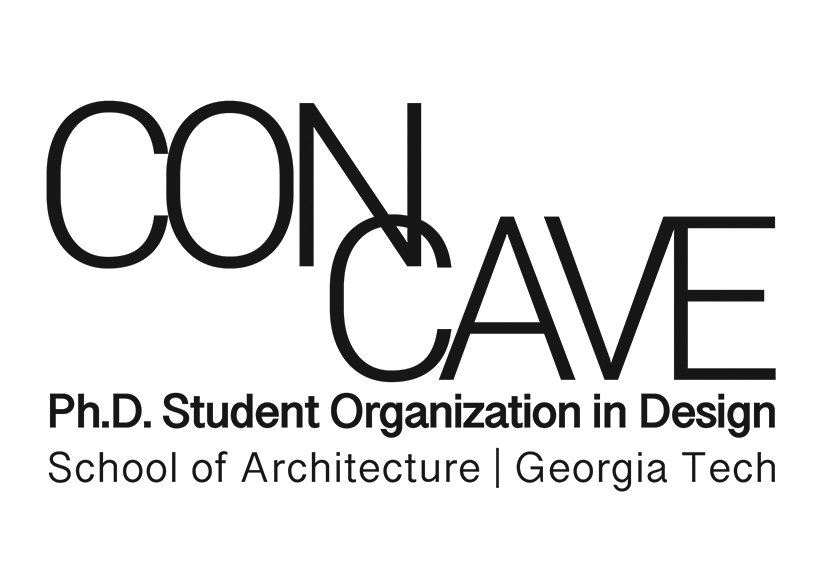 ConCave is a Ph.D. student-led group in the School of Architecture of the College of Design at Georgia Tech. It's goal is to build a community revolving around design and research. The group aims to engage with a larger group of design students and scholars, and to enhance the network of Ph.D. students all over the world.


Team:
Dr. Tarek Rakha, Academic Advisor

Hayri Dortdivanlioglu
Marisabel Marratt
Yousef Bushehri
Mehmet Bermek
Sevda Babalou
Zachary Lanchaster
Eleanna Panagoulia
Fatima Javeed
Gustavo Do Amaral
Raha Rastegar
Jun Wang
Yeinn Oh
Yasser El Masri

Alumni
Zorana Matic
Heather Ligler
Contact: concave@design.gatech.edu


Members
---
Hayri Dortdivanlioglu
is a Fulbright Scholar and Ph.D. student in architecture at the Georgia Institute of Technology. He is currently researching the intertwined relationship between the six Vitruvian principles and his triadic structure of Firmitas, Utilitas, and Venustas through the concepts of new materialism. In a broader sense, his research interests include new materialism, design process, form generation, diagramming, formal analysis, shape grammar, and architectural representation. Besides his concentration in architecture, Hayri is pursuing the Science, Technology, and Society certificate program.Besides his studies and research, Hayri is teaching architectural design studios at Georgia Tech. He is the co-founder and coordinator of the ConCave Ph.D. Student group in the College of Design at Georgia Tech, and also the coordinator of the International Ph.D. Symposium 2020. Before coming to Georgia Tech, Hayri received his B.Arch. with the excellence in graduation award, and M.Arch. from Middle East Technical University [METU] in Ankara, Turkey, where he taught various courses on architectural representation, and design studios.
website:
hayri4.com
---
Marisabel Marratt holds a B.A. and M.Arch from Princeton University, has a combined twenty-five years of professional practice in architecture, interior architecture and scenography as Senior Designer on projects of wide range and scale, and has garnered a number of design awards. She is a Ph.D. candidate in the History and Theory concentration of the School of Architecture at Georgia Institute of Technology, where she is focused on nineteenth and twentieth history and theory, philosophies of technology, and aesthetics. Her interests lie at the intersection of history and theory, science and technology studies, studies in technicity, design and materialization. Her specific research centers on the post-war period, and the work of French philosopher of technology Gilbert Simondon (1924-1989), his study of the human engagement in techniques of materialization, their modes of existence, and as particular manifestations of techno-aesthetics. She is interested in exploring the resonance between this work and architecture, with the potential to contribute to the current discourse surrounding history, emergence, materiality and environment. Marisabel also holds a Graduate Certificate in Science and Technology Studies from the Ivan Allen School of the Arts at Georgia Tech. Alongside her research and studies, Marisabel teaches architectural design studios and a survey course in the History of Modern Architecture at Georgia Institute of Technology. She has presented her papers at conferences, published in edited compilations and participated in, organized and led symposia. She is a member of the Executive Board of the ConCave Ph.D. student group of the College of Design and Academic Coordinator for the 2020 International Ph.D. Symposium, "Divergence in Architectural Research".


---
Yousef Bushehri
is a Ph.D. student in evidence-based design, examining the relationship between environmental design and healthy aging. His research interest brings together design, aging, disability, and measurable health outcomes. In addition Yousef is interested in methods of analyzing and quantifying spatial experience so that designs can be compared to extract characteristics to inform future guidelines. His past works include practicing as an architect in Kuwait, participating as an artist in residence at Google's Paris office, and working as a research assistant at the Simtigrate Design Lab. Yousef attended The Catholic University of America in Washington, D.C. for his BSArch (2011) minoring in psychology and March (2013) focusing on digital media, and recently completed his MSArch (2016) at Georgia Tech with a concentration in healthcare design. Most recently he has been a studio instructor for undergraduates and is also a painter and illustrator.
website:
www.leyousef.com
---
Zorana Matić is a Ph.D. candidate in the School of Architecture at Georgia Tech and expects to graduate in 2020.Her research focuses on links between the built environment and health and how design affects behavioral choices and health outcomes. In her thesis, she explores the complex relationships between new green infrastructure, green gentrification, and the health of legacy residents living in Atlanta's historic neighborhoods. As part of the SimTigrate Design Lab, she was deeply engaged in the healthcare field through several projects, using her expertise in spatial analysis and mock-up-based simulations.For several years, she focused on the research of the design of Biocontainment Units. She co-authored several publications on the role of the built environment in both healthcare staff safety and patient experience. Zorana holds a BArch and MArch in Urbanism from the Faculty of Architecture, University of Belgrade, Serbia.She received several awards for design and research, including the 2020 Researcher of the Year Award (Healthcare Design Magazine), 2018 EarthShare Fellowship, 2013 School of Architecture Ph.D. fellowship, 2008 Eurobank EFG Scholarship for the best students in Serbia.


---
Eleanna Panagoulia is a Ph.D. student at the High-Performance Building Lab (HPBL) at the Georgia Institute of Technology. Her research focuses on the ways data generated by performance informatics are integrated into architectural software. This involves the application of semantic approaches to enrich and query BIM models in order to ease the ways building data are operationalized in the design process.
Prior to joining the Ph.D. program, Eleanna received her Diploma of Architect-Engineer from the Aristotle University of Thessaloniki, Greece in 2013 and her Master of Architecture from the University of California, Berkeley in 2015. Between 2015 and 2019, she joined the professional practice as an Architect at the international firm Foster + Partners in California and London, specialized on computational and BIM methodologies for project development and coordination during design and construction stages. Eleanna is a registered architect in the UK and Greece and a member of ARB.
---
Wenbo Guo is a Ph.D student in the School of Architecture at Georgia Tech. Her research interest centers on the history of architectural practice in Modern China (late 19th to early 20th century), particularly focusing on the dynamic interactions among the modes of architectural production, tools, technology and political economy over the 20th century. Her recent work examines the intricate and fluid relationships among different professionals in architectural industry, particularly the tripartite of owner, architect, and builder, which bridges over the fields of design and construction. Wenbo is also active in practice in architectural companies in both the US and China.


---