DIVERGENCE IN ARCHITECTURAL RESEARCH 2023

---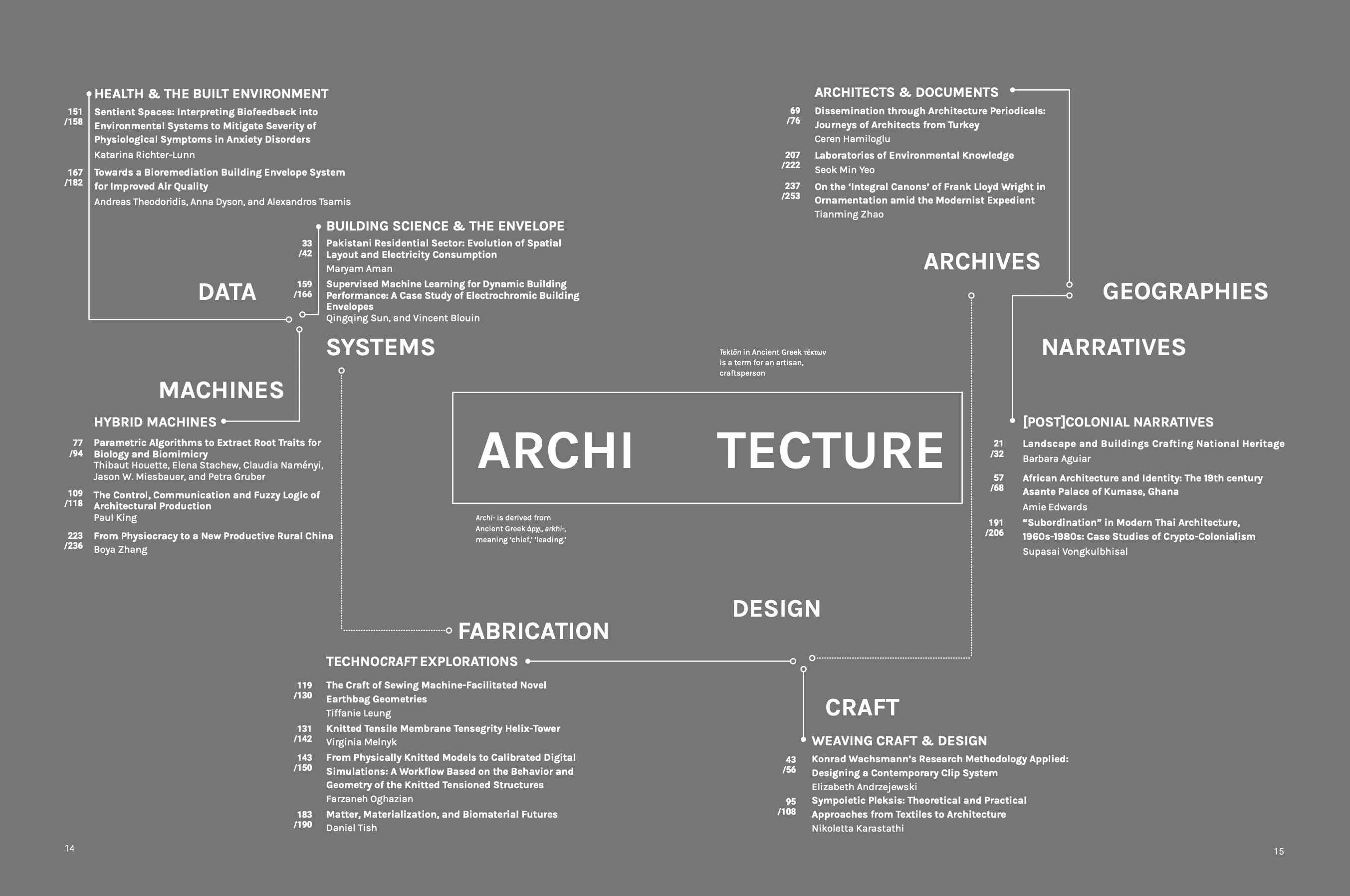 Book Launch:
DIVERGENCE IN ARCHITECTURAL RESEARCH 2023
Proceedings of ConCave Ph.D. Symposium 2022
Douglas Haskell Award for Student Journals
DOWNLOAD
︎︎︎
Editors:
Hayri Dortdivanlioglu
Eleanna Panagoulia
Yeinn Oh
School of Architecture Publication
January 2023
ISBN 978-1-7364944-1-7
We are excited to announce that our publication, "Divergence in Architectural Research," has been awarded the prestigious Douglas Haskell Award for Student Journals. This award supports student journalism on architecture, planning, and related subjects, encouraging intellectual criticism among emerging professionals.

This second volume of Divergence in Architectural Research brings together nineteen papers presented at the ConCave Ph.D. Symposium 2022, which took place at the Georgia Institute of Technology, Atlanta, Georgia on April 7-8, 2022. This international doctorate symposium was organized by the ConCave Ph.D. Student Group under the auspices of the School of Architecture and the College of Design at the Georgia Institute of Technology. The symposium sought to create a platform for sharing current research in architecture, with invited scholars and other doctoral students from architecture and allied fields. It was our desire to create an opportunity to gather, exchange formal as well as spontaneous conversations in research, and explore possibilities of collaboration.

Right after the first ConCave Ph.D. Symposium in mid-March of 2020, like the entire world we found ourselves following planetary regulations and procedures dictated by the Covid-19 Pandemic. While the success of the first symposium raised the bar for the next event, besides our ambitions, we had to tackle with the daunting task of bringing Ph.D. scholars together during an on-going world health emergency. While in the last two years we learnt more about how to control and fight the disease, we were not certain about the possibility of an in-person symposium considering the emerging variants and the limited distribution of the vaccines only in some privileged regions of the world. The pandemic made the inequities and the issues of access to resources more visible in every aspect of human life, but more so in our Ph.D. community.

The isolation during the peak of the pandemic proved the necessity and importance of the ConCave Ph.D. Group and the Ph.D. Symposium. On the one hand, it showed us the value of belonging to a community and having a safe space to get together and interact with our peers and friends. On the other hand, the inequities emerging after Covid-19 compelled us to reimagine the structure of the symposium. In addition to physical gathering made possible by adoption of precautions, such as vaccination, mask wearing, and regular rapid Covid-19 testing, we offered a virtual space, in which the presenters and participants from all over the world followed the symposium and interacted with the other participants.